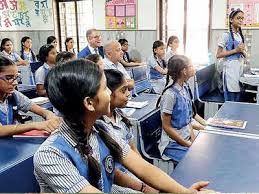 The Delhi model of education
Mahatma Gandhi secured the participation of thousands of households in the freedom struggle when he launched the civil disobedience movement. For every household today, rich or poor, education has the same relevance as salt did in 1930. This is seen in the resounding verdict given by the Delhi electorate in the Assembly election to the Aam Aadmi Party (AAP), which built its governance model around education.
In the last five years, the Delhi model of education has caught the attention of people in Delhi and beyond. For too long, there have been two kinds of education models in the country: one for the classes and another for the masses. The AAP government in Delhi sought to bridge this gap. Its approach stems from the belief that quality education is a necessity, not a luxury. Hence, it built a model which essentially has five major components and is supported by nearly 25% of the State Budget. The validation of this model now creates a pathway for the next set of reforms.
n the words of Manish Sisodia, the leader of the Delhi education model, "having built the foundation of education", the focus now will shift to "education as a foundation". Going forward, there will be three key areas of reform apart from consolidating the gains of the past. First, the syllabus of Classes 1 to 8 will be reviewed to emphasise foundational learning skills, the 'happiness curriculum' and the 'Desh Bhakti' curriculum. Thus, apart from ensuring that all children can fluently read, write and do mathematics, the focus will be to build emotional resilience in children and ensure that they internalise our core constitutional values by the time they complete eight years of schooling. Apart from that, early childhood care and education will be deepened further through Anganwadis. There will also be nurseries in all government schools.
Second, a Delhi Education Board will be set up to promote learning that encourages critical thinking, problem-solving and application of knowledge among children. This will prepare them to tackle the challenges of the 21st century with an entrepreneurial mindset. Additionally, for those who have graduated from Delhi schools in the recent past, programmes like spoken English, soft skills and so on will be initiated to raise their employability opportunities.
Third, specialised schools will be created in each of the 29 zones of Delhi to nurture the aptitude and talent of children in the areas of science and technology, literature and language, visual and performing arts, and sports.